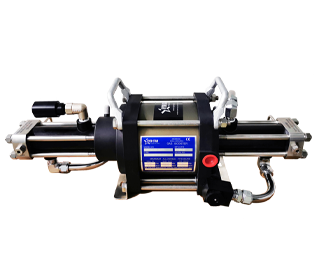 Gas Boosters
HYDR-STAR Gas Boosters consist of a large area reciprocating air drive piston directly coupled by a connecting rod to a small area gas piston. The gas piston operates in a high pressure gas barrel section. Each gas barrel end cap contains high pressure inlet and outlet check valves. Varying applications require many different booster and air drive head combinations.
The air drive section includes a cycling spool and pilot valves that provide continuous reciprocating action when air is supplied to the air drive inlet. The ratio between the area of the air drive piston and the gas driven piston is indicated by the number in the model description and approximates the maximum pressure the gas booster is capable of generating.
Features:
»Reliable, easy to maintain, compact and robust
»No heat, flame or spark risk
»Infinitely variable cycling speed and output
»Pneumatic driven models do not require electrical connection
»Easy to apply automatic controls
»No limit or adverse affect to continuous stop/start applications
»Seal systems designed for long working life
»No airline lubricator required
»Hydrocarbon free – separation between air and gas sections
»Pressures to 35,000 psi (2414 bar)
»Built-in cooling (most models)
»Standard & custom systems available
»Suitable for most gases
»Single, double acting, and two-stage models
»Ability to stall at any predetermined pressure and hold the
»fixed pressure without consuming power or generating heat

»Pressure Testing Piping and Hardware for Leakage:
e.g., oil field, refinery, aircraft, automotive, instrumentation using gases.
»Gas Injection: chemical process, plastic forming.
»Gas Scavenging: collecting costly gas in partially used cylinders and transferring it into high pressure receiver(s) for further use.
»Life Support Gas Transfer and Charging:
e.g., oxygen, helium, breathing air, diving, fire fighting/hazmat, aircrew.
»Compressed Natural Gas (CNG) Boosting for vehicle refueling stations.